Internet Explorer 6.0 (IE6) has tormented web designers for years. This is primarily due to there inability to support PNG images which are now widely used in website designs. Recent browser market share statistics from W3Schools.com shows that only 2.5% of all users are running on IE6. This is down from 7.9% a year ago. Additionally, Microsoft is now pushing their new release of IE9. I think it is safe to say that IE6 is officially obsolete.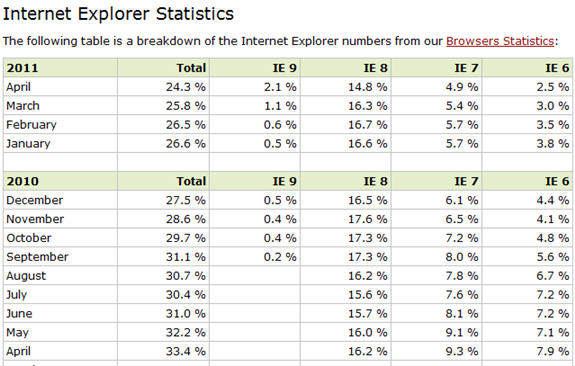 Although there is still a small number of users on IE6, ask yourself, are they really customers you want? Maybe they are, but for web designers, they are way behind the curve.
Other stats show that Firefox is still the leader in the market with almost half of all usage at 42.9%. Firefox also recently launched a new release, Firefox 4.0. Continuing to gain ground since its creation is Google's Chrome with now 25.6% market share, up from 13.6% a year ago. Chrome continues to gain market share month after month and Firefox 4.0 and IE9 are both based off some of the functionality Chrome offers such as search in the URL bar and smaller navigation menus.

With the upcoming launch of Google Chromebooks, Chrome will likely continue to gain market share through the rest of 2011.
Note that these stats are from only 1 source and probably need to be taken with a grain of salt, but W3Schools.com has proven to be a valuable resource for website coding techniques including HTML & CSS.