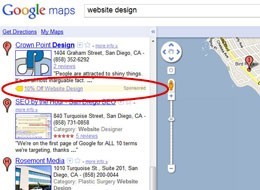 Editor's Update – 4/28/2011 – Google recently announced that they are no longer supporting this feature in Google Places
Google has recently added a new sponsored link feature to Google Maps listings that is meant to increase the effectiveness of your listing on Google Maps. The new feature is called a 'Sponsored Tag'. For a flat fee of $25 per month. You can add a sponsored link to your listing via Google Places. The listing appears on Google Maps searches as well as some organic searches that display map results. The intention of this new sponsored link is to give users another link to click on your business.
You can set the options for what you want the sponsored link to say. The choices are:
Highlight a Coupon that you create (ex. 10% OFF, or Free Shipping)
Highlight photos of your business (upload these to your Google Places profile first)
Highlight videos of your business (upload these to your Google Places profile first)
Highlight your website (another link to your site)
Results from your sponsored tag can be tracked in Google Places along with your number of impressions and clicks from free business listing materials. Data shows the number of times your tag was expanded by users to see more, and how many times people directly click though toi your site from the sponsored tag link. This gives you the ability to see how well your tag is performing and whether it is worth the $25/mo investment.

Disadvantages to using the sponsored tag link are that the link says 'sponsored link' next to it and is highlighted in yellow. This lets users know that it is not an organic part of your free listing which may turn-off certain advanced users.
Google is offering promotions for a free 30-day trial of using a Sponsored Tag on your listing. Contact CPD for more information on getting a free 30-day trial for your listing.