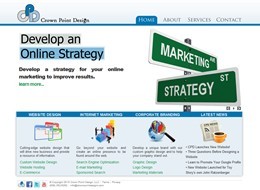 June 8, 2010 – San Diego, CA – Crown Point Design (CPD) is happy to announce the launch of their new website – www.crownpointdesigns.com. The design is intended to provide information on our services including website design, internet marketing, corporate branding, web hosting, logo design, SEO, email marketing, and more. An extensive client portfolio showcases some recent website projects.
A large effort in the new design is to demonstrate how to tie together social media with corporate branding. We provide links to the CPD Facebook Fan Page, YouTube channel, Blog, and Twitter throughout the site in an organized way. The site also serves as a great example for user experience. Through several rounds of user testing, we centered the design around simplicity, organization, and design modern design components.
We are very excited about the new launch and hope to hear from you all soon about your design and marketing needs!