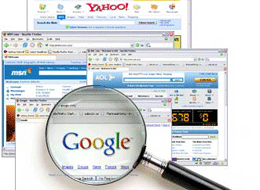 When advertising with search engines like Google Adwords, there are many strategies to successfully converting prospects à customers. When it comes to online advertising goals, there are two main strategies that are used: Branding or Direct Response.
Branding:
Branding is when your advertisement and subsequent landing page is used to direct users into an "awareness" of your products or services. Branding is a crucial piece of marketing. Everyone wants Buy Now sales in their business, but utilizing a branding method to provide information on a product or service is sometimes even more useful as people are not always in a buying state when browsing the web.

Examples of when to use Branding Ads:
–          When you do not sell a product or service online
–          When your product or service involves a longer sales cycle including custom quoting, demos, etc.
–          When your messaging is more important than gathering information
Direct Response:
Sponsored search advertisements that send users to a landing page that has a specific call to action are utilizing the direct response strategy in their pay per click ads (PPC). Examples of direct response call to actions are:
1)      Requesting a user fill out a form to sign up for a demo
2)      A landing page that asks you to take a survey
3)      Trying to get users to buy a product right now
4)      Sign up for a newsletter form
5)      Call us now to receive a discounted rate
One of the major advantages of direct response campaigns from a marketing standpoint is that you are able to track your results more directly. You can look at your total spend vs. total click throughs vs. total direct response leads that came through (by filling out a form, buying something, etc.)
Mixed Approach:
It is possible to use a mixed approach to your search engine marketing strategy by utilizing your company branding along with some small call to action for direct response. Typically these types of landing pages will see the most success.