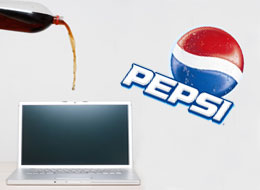 Pepsi will not be running ads during the Super Bowl for the first time in 23 years. Instead, the company plans to focus their marketing efforts in online ads. The company spent $15 million in Super Bowl ads last year on Pepsi alone (they also own Gatorade, Frito-Lay, Cheetos, etc.).
If a company with a marketing budget the size of Pepsi has realized that there is more value in spending with online ads than with Super Bowl ads, then it is clear that online marketing is starting to become the primary source for reaching potential customers.
"In 2010, each of our beverage brands has a strategy and marketing platform that will be less about a singular event and more about a movement," says Nicole Bradley, spokesperson for Pepsi.
According to an ESPN.com article the nation's second-biggest soft drink maker is plowing marketing dollars into its "Pepsi Refresh Project" starting next month as its main vehicle for Pepsi. The project will pay at least $20 million for projects people create to "refresh" communities.
A Web site will go live Jan. 13 where people can list their projects, which could range from helping to feed people to teaching children to read. People can vote starting Feb. 1 to determine which projects receive money.