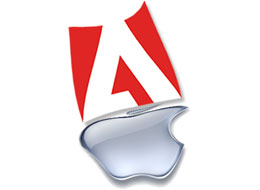 Yesterday's exciting release of Adobe CS5 included new features that allow users to build programs in Flash and then convert the software into IPhone Apps which can then be sold in the IPhone Apps Store.  This technology is one of many improvements Adobe has made in the effort to allow designers to develop applications without writing code.
Prior to the major release made by Adobe, Apple made a change to their developer agreement (Clause 3.3.1) that only allows applications that are built in Apple's approved programming languages – Object C and C++. This clause is directly geared toward programs that are developed in Flash and the new technology that Adobe has worked hard to release.
Steve Jobs, CEO of Apple, has made clear his dislike for Flash which he feels is a 'buggy' development platform, "We've been there before, and intermediate layers between the platform and the developer ultimately produces sub-standard apps and hinders the progress of the platform."
This has caused a lot of fire between the two companies and the eager customer base that wants to take advantage of the new software. What is boils down to is that Apple needs Adobe, Adobe doesn't need Apple. Apple computers have always competed on style, branding, and their friendly interface for graphic and web designers. This has attracted a lot of industry design individuals and companies who use Adobe software and have become loyal to Apple products.
Apple's market share in operating systems is 11 % compared to Microsoft's dominating 88% according to StatOwl. If developers start migrating to PCs and Adobe starts to add the same technology for the Android operating system than Apple is at risk of losing market share that they have worked so hard to gain over the past 5 years.
Adobe has not announced any plans for the Android operating system, but the rising popularity of this smart phone is sure to be on their list. Apple needs to embrace Adobe as a valuable asset to their success and adjust to the programming changes that are occurring. Apple's clause in their developer agreement essentially disapproved the hard work of Adobe to bring users new and easier ways to develop applications. A big slap in the face…
April 19, 2010 – Update – "We will still be shipping the ability to target the iPhone and iPad in Flash CS5. However, we are not currently planning any additional investments in that feature." according to Mike Chambers, the principal product manager for developer relations for the Flash platform at Adobe.