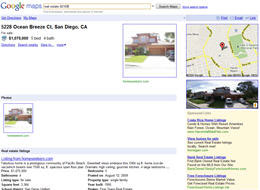 Google has recently rolled out new functionality in Google Maps to help find homes for sale. According to a post on the Google Australia Blog, "Some of us have been working on a particularly interesting project that combines Google Maps and search technology – we've been trying to work out if your search query in Google Maps means you're interested in having current real estate listings returned to you." Full article
Try typing "real estate [my zip code]" into a Google Maps search query and see what happens… You will likely see lots of results of real estate listings in your area. Although having these listings on Maps is not new, the way you can find them has become a whole lot easier.
The best part of the real estate listings is that it provides detailed information to the size of the home or apartment, price, pictures and more.