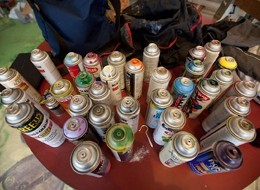 At CPD we love contemporary art and are always fascinated to see what can be done with the use of existing art techniques like spray paint and new technology. This video is a great representation of the power that graphic design can have in the modern world. What was once looked at as an old warehouse is transformed into a work of art by the work of Bliss N Eso. Check out the behind the scenes look at creating  this video.
Video Credits:
After 3 months in making, Bliss N Eso return with the highly anticipated clip for Addicted! The moving graffiti in the clip is animated entirely in stop motion using over 2,200 photos.
The clip was shot in a warehouse in West Auckland (NZ) which was previously the headquarters for bikie crew "Headhunters". It features artwork from world-famous graff writers Askew One and Deus, who spent 6 days straight working their way around the warehouse and used over 300 cans of paint.
A big shout out to the Fish n Clips crew who helped make this concept come to reality. Addicted was directed by James Solomon and shot by Marty Williams with help from Dan Monaham and Clint, and was produced by Sam Momeny and Jessie Gurunathan. Post by Nathan Pickles and Mike Robinson.