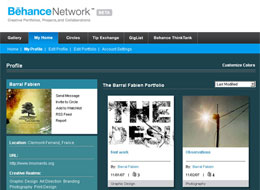 If you are a website designer, graphic designer, photographer or artist you should get on the Behance Network. Behance is an up and coming social media site that allows creative experts to show off their portfolio of work through a variety of online platforms. Very often, graphic designers and photographers don't have the web skills to create an online portfolio that has a professional look. Behance allows you to create a portfolio without writing any code and share it with friends.
Using the Behance technology you can easily create multiple portfolios (examples include: web, graphic, logos, etc.). These portfolios live in your FREE account which can then be shared online with everyone. There is also great integration with LinkedIn.com to share your work directly through your profile. Learn how to integrate your Behance portfolio with LinkedIn.
Behance is an excellent tool for professional designers to share their work.
Click to view Crown Point Design's online portfolios on Behance.