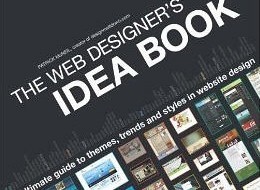 All website designers need a source of inspiration. Often it comes in the form of browsing the web and looking at other designs. Perhaps industry competitors or some of your other favorite designs will spark an idea for the design of a new website. There is one book above all others that I recommend to website designers looking for ideas. The book The Web Designer's Idea Book: The Ultimate Guide to Themes, Trends, & Styles in Website Design by Patrick Mcneil, is one of my favorites.
The book provides insightful tips on the use of color, space, and layout. The book is divided into sections which include sites by type, sites by design style, sites by theme, sites by color, etc. Particularly useful is the 5-layer color pallettes that are accompanied with each section and include the hexadecimal RGB values.
This is a great book to have on the shelf when a project comes up that you need to spark some new design ideas.
The author recently released a second addition of the book which I am sure provides even more great website ideas.