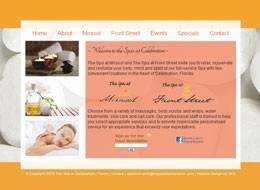 We recently completed a makeover for our good friends in Celebration, FL for The Spas at Celebration. The challenge of this project was to create a unique website that represented two locations that offer similar services and common specials and events. The spas are known as The Spa at Mirasol & The Spa at Front Street.
The importance of user experience can't be stressed enough. People should be able to navigate a website quickly and easily. I was once told that if users don't have to think about where to click, then the web designer did their job correctly.
Our approach to designing this site started with creating a central location where both stores share similar qualities. When getting to the homepage you can learn about the spa, the weekly specials, sign up for the email newsletter, or quickly get the contact location of either spa location. The top navigation of the site does not change as you navigate throughout the site.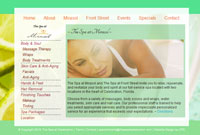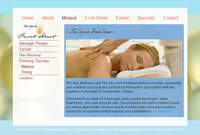 The next step was creating areas in the site for each of the two locations. Using a similar design template as the main site we used a different color scheme to achieve a unique identity for each location. Both of the spa locations offer a wide range of massage, makeup applications, facials, pedicures, and more. Using a JQuery accordian, users can see a full list of the choices for any particular service and then read more detail by clicking on any of the interactive links.
As The Spas at Celebration begin to establish a bigger web presence, they will use their new website as the central marketing tool for driving traffic. This goes to show the value of great user experience and design.