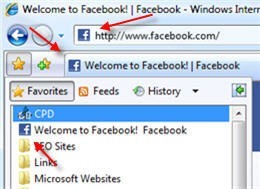 A Favorites Icon, also known as a favicon, is an often overlooked branding tool that every website should have. It is displayed differently by each browser, but in most cases  is shown to the left of the URL or opened Tab. It also always appears in the Favorites Folder or Bookmarks, so people can easily find the site they are looking for.
A favicon can only be 16×16 pixels, which is very small. Here are some tips to keep in mind when designing your favicon:
Do not use too many colors

Do not use too much detail – less is more

Do not use more than 1-2 letters – will be too hard to read

Keep the background transparent – browsers have different color backgrounds

Test your favicon on as many browsers as possible before publishing
Take a look at some of the larger companies on the web and notice the simplicity of their favicon. Here are a few that are recognizable even if you don't realize it: Craigslist.org, Google.com, ESPN.com, CNN.com, Facebook, and Twitter.
For assistance in designing or installing a favicon on your website, contact CPD by emailing info@crownpointdesigns.com